by N. C. Wyeth

Royalty has always been impressive, and not all due to the fairy-tales hailing from medieval times. It tends to go beyond the opulence of royal families and the attractive high social status. Even the power factor itself doesn't fully justify the fascination, as we can see there is more to it. Presidents, statesmen and politicians today certainly do not have the same aura as a king, nor could ever inspire the same sympathy.
People in need of true leaders
Even those who would never admit it still need them. Not to be controlled by them, but to be
inspired
. A loyal, caring but fierce, righteous and firm leader easily becomes a role model. For this reason, people have usually loved kings - those of older times mostly - and still do. Have a look at
the quest for Richard III's grave
. Many had even donated money to support the archeological dig. The people were there, for a king dead long ago, a king who was vilified. As the findings were made public in February 2013, enthusiasts from all over the world knew a renewed interest in ancient British royalty. It was fascinating. Moreover, it was not about him being a presumed murderer (there is nothing unusual in that, considering his era and status), not about the discovery itself even, because it could simply be reduced to a skeleton found underneath a parking place. It was about having found someone important from
those
times, someone who
ruled
and
fought
.
Warrior kings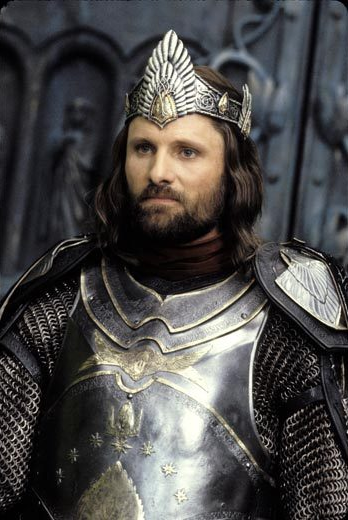 King Aragorn (Viggo Mortensen)
Unfortunately, the days of true monarchs are gone. There is no way to compare an 'office ruler' to a sovereign who would take his horse and sword, charge the army and go into battle. Those sovereigns of the past were ready to die - and for a noble cause. To this aspect let us add the values they used to embody and profess. Kings, unlike state leaders nowadays, based their rule on certain ethics. Unless we are talking about tyrants, they were quite charming, captivating, awe-inspiring, courageous.
What do we have left today?
The history passionates may not feel completely deserted, because they can easily take refuge into history books and contemplate what once was. Nevertheless, this could hardly be a universal solution to our hunger for kingly values. Luckily, for the rest of us there are the books - the fiction ones especially. Also, there are the movies. It seems that, wherever we look, the best stories are those involving royalty and perhaps some war, too.
Kings in movies and the people's reaction nowadays
Prince/crownless king Thorin Oakenshield (Richard Armitage)


Without a doubt, they absolutely love them, plain to see. Fantasy writer J.R.R. Tolkien and now director Peter Jackson have been milking this frantically. They created fascinating monarch figures, addictive even. (The Game of Thrones is not far from that, either).

Pop culture has been invaded by long-haired, more or less bearded, armed kings and princes - characters the world once thought to be just relics, incompatible with our times. For the disbelievers, there is always available evidence online of the legacy of Aragorn Elessar, to give the most prominent example. More recently, another warrior king claimed the spotlight. As of December 2012, when the first film of The Hobbit trilogy got on screen, Thorin Oakenshield quickly gathered an army of thousands of followers. The character, although invested with traits that weren't supposed to attract sympathy, surpassed all expectations and became a detached favorite of the crowds. Handsome, incredibly daring and courageous, fighting for honor, loyal, caring for his kin, proud, determined, rugged, aware, this noble hero enraptured viewers in a way rarely seen before.

Kings with all their might, even with their burdens, turmoil and failures, embody everything that many of us find fascinating. Some may have forgotten, some may be denying it, but there is a longing for all of their kingly traits, for their rare qualities. Those like me are fully confessing it: we feel that the world has never been in a greater need of righteous kings than it is now.